Giraffe Barn Stay, Other Cabin Rentals, and RV hookups
COME ENJOY AN EXPERIENCE LIKE NEVER BEFORE
Come Stay in one of our western Elegant overnight facilities ranging from our timeless Conestoga Wagons to Upscale luxury suites located in our Giraffe barn overlooking Puzzels Palace where you have access to feeding and interaction with him from the comfort of your room. Come get lost somewhere between Africa and Wild Texas with us. We have several options to choose from. All photos and booking links can be found under 'Lodging" please visit that link on this website to be taken to Airbnb to complete the booking process.
Special arrangements to participate in our Wild Dinner experience can be made on request, but bookings for this event are limited and should please be made in advance.
DO YOU HAVE AN RV?
Come stay with us!
Come self-quarantine at Oak Meadow Ranch, distancing yourself while keeping your sanity!
OUR FACILITIES OFFER ALL THE AMENITIES YOU NEED TO MAKE SURE YOU ARE COMFORTABLE WHILE YOU GO THROUGH THIS, INCLUDING:
30 acres of elbow room
Walking trails and fresh air
Exotic animals to help your stress
Horse- and dog-friendly
Low-stress environment for all
Free Wifi
30/50 Electric and Water RV sites
Call for Pricing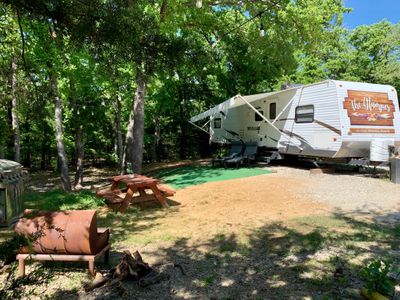 RV AMENITIES AVAILABLE
RUSTIC LOCATION IN THE HEART OF HORSE COUNTRY USA
Call for Pricing
Includes water, electric (30 amp or 50amp) and sewer
For Rv spot rentals contact Kristin Navarro 808-295-5557
Horse pen rental available per request / $10 per day per horse
Wifi / $20 per month