Gathering Hall 
Its large size can accommodate over 150 people and it will delight your guests with a grand stone fireplace.
The Porch
The perfect place to get fresh air and enjoy the area that surrounds the venue, including the beautiful tree-lined pond.
The Bride Cabin
Our bridal cabin is the perfect place for that heart-to-heart before the magnificent event takes place. It has large mirrors, a private bath, and a hair and makeup area so the bride can enjoy those much needed moments of tranquility before going out to the world to meet their partner at the altar.
The Groomsmen Cabin
This cabin is the perfect hideaway for the groom before the much-anticipated event. This room's purpose is to accommodate the groom and their entourage of supporters — a wonderful, calming retreat before the emotional experience ahead.
Our Ceremony Area
The ceremony area is located outdoors surrounded by the beauty nature has to offer. The chapel is decorated with a green background of luscious trees that bring a more vibrant feel to the ceremony. The seating area offers church pew seating for all your guests to feel comfortable while they witness the magical moment.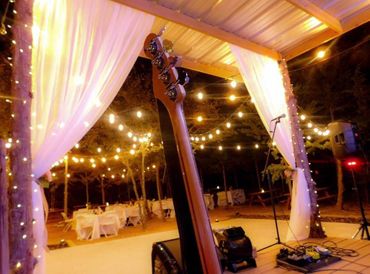 Music
The music stage will make you feel like you are at a concert! We'll make sure that you and your guests will party on the dance floor until your feet hurt — it will definitely be an occasion to remember!
The Photographic Opportunities
It is not enough to say that the Oak Meadow Ranch has potential for good pictures — that would be underselling its capabilities. The surrounding natural environment filled with beautiful vegetation will facilitate gorgeous photos that will help you relive your special day forever. Not to mention, the natural light is a selfie's delight!
We also have lovely exotic animals that we care for on the ranch so you can take pictures and create special memories with them.
Transportation
You can make an entrance in style to your wedding with our blue vintage 1954 pickup truck and take pictures on it to prove that a piece of history was with you on your special day. You can also make the occasion more memorable by arriving in our horse-drawn carriage.
The Food
We can satisfy your culinary needs with custom chef-inspired catering to enhance your day. We also offer wedding cake services — everything in one place so you don't have to worry about anything.
Other amenities that we can provide:
Exclusive full wedding planner

Bar concierge

Security

Valet parking

Full DJ service

Floral arrangements

Limousine and shuttle service

Hotel coordination

A rehearsal dinner at our wonderful Whitehorse Steakhouse